Almost every day, we receive many calls from people surfing the search engines for Locksmith Services after getting locked out of their home, car, or office. Getting locked out of your own home can be very frustrating! Especially during the colder months or odd hours of the night.
Knowing how to deal with such a situation is vital to ensure your safety and easy access to your home if you ever get locked out. The following are what you can do when you're locked out of your home:
What to do When You're Locked Out of Your Home or Office
We have highlighted many ways to get into your locked house or car; among them are calling a locksmith. While it's a brilliant idea and a better route than attempting to fix/open the lock yourself, there are many alternatives to try before calling a locksmith. Meanwhile, the do-it-yourself (DIY) route can be time-consuming, cause damage, or not work at all while wasting time.
1. Find Your Spare Key
Do your friends or family have a spare key to your home? Before you decide you want to pick your lock and maybe tamper with it in the process, it is essential to remember this. Give the person who has your key a call and wait until they can open the door for you if this is possible.
2. Check If Your Window or Garage is Opened
It is painful to call a locksmith and spend money to unlock the door for you only to realize that one of your windows was open. Before you make that call, check if any window is open for you to crawl into your home. Check your garage and pet house's doors too.
Although having a window open when going out is not a good idea as you might be unknowingly welcoming burglars, it may come as a relief in a difficult situation like this. When jumping through the window, remove the screen and shimmy through. Also, take note of your landing as a furniture or TV set might not be far from you.
3. Ask For Help From Your Neighbors
Are your neighbors at home? Do they have tools that you can use to pick your lock? Or can they offer help to pick the lock for you in case you are not able to? Your neighbors can provide you with a solution or advice on how to access your home.
4. Call Your Partner or Roommate
Sometimes, we forget this option when panicking. So be a little at rest and think if you have a spare key with your partner. If you are locked out of your house, you might call them from their workplace or wherever they are to let you enter. This method will inconvenience them, but it's a better alternative than getting stranded or losing your important time.
5. Do You Have a Library Card or Credit Card With You?
If you have a library card or your credit card, you can use them to pick your lock. This method, however, applies to specific doors, and on newer modern doors, this might not be effective. A point to note is that a laminated card works best with a spring-latch lock. Ensure that you do not use your most important card.
To open your door, you have to slide the card between the door and the frame while still holding on to the doorknob. Press on the door using the knob to create space between the door and the frame where you can slide the card. Make sure that the card is parallel with the door and the knob. The latch should be parallel to the knob. Tilt your card and adjust it until you feel the resistance between the latch and the door frame; this will help allow the card to get deeper.
Now, you have to bend the card in the opposite direction, which will allow the card to slip underneath the latch. Keep pushing the door or pulling it as you do this until you succeed. It is important to note that if this method works, then you might need a professional locksmith services provider to change your locks eventually.  Also, it means that your house is not secure as it should be, and anyone can pick the lock and access your home.
6. Call Your Landlord
Your landlord is most likely to have a set of keys to your home if you are renting. Give them a call and let them know that you need their help. They might even be living close to you, and that will be to your advantage.
7. Talk to Your Building Manager
In case you get locked out of an apartment building, this means you might not even be able to access an open window. Apartments must have master keys to every unit, and your building manager may be your solution to accessing your home. Call them and request them to open the door for you. You will need proof of identity on-hand and also prove that you live there. But note that many complexes have a lockout fee that you must pay if the staff has to unlock your door for you. So, you might think of other options first.
8. Call a Locksmith Services Provider
If you have exhausted all of the above options and have been unsuccessful, it is time to talk to a professional locksmith services provider. A professional locksmith will provide prompt services and ensure you access your home without the fear of damaging your door. Although the cost could cost in the region of $30 to $90 but calling a locksmith is the best thing when you're either locked out, or the key at hand won't turn it.
9. Pick the Lock Yourself
Bobby pins and paper clips might be used as DIY lock picking tools as you must have watched in movies, but it can be tricky. What you have to do is to break the pins into two and bend one of the pins into an L shape to serve as a tension rod for the lock.
For the second pin, straight it out and bend it into a little W. It is this W-shaped pin you will use to unlatch the pins in the lock. The next step is to use the L-shaped pin to keep tension in the lock when you keep it in place and use the W-shaped pin to push up the L-shaped pin to unlock the door.
10. Remove the doorknob
When most of the options above are not available or you are in haste to get in, taking off the doorknob might sound pretty cool. Taking off the knob is a quick advantage if the deadbolt is not locked. Most of the knobs you see around have their mounting screws or connections concealed, but there would be a tiny hole at the side or below the doorknob if you look closely.
Insert a paper clip or bobby pin in the tiny hole and apply pressure. Go as far deep as you can as you would feel resistance from the door while you turn and pull the knob with the other hand. Continue this process— applying pressure and turning the knob till the knob is removed. The next is to remove the decorative plate covering the lockset, then gently use a screwdriver to push the locking mechanism for your door to open.
However, be sure you are in a safe environment. Otherwise, a burglar may try this out the next time. Also, make sure you have exhausted other options as this comes with a cost of fixing later.
Locked Out of the Car, What Can I Do?
Just like you can have a house lockout or office lockout, it is also possible to have a car lockout. However, we have highlighted the solutions to the car lockout problem below:
1. Think deeply
Once you are in this kind of situation, it's easy to panic. But panicking would not solve the problem, hence think deep of a way out. You may need to consider if you have a spare key or keep one with your partner or neighbor. Your car dealer may have a spare key, so thinking deep may reveal more options to you.
2. Car insurance
When you're locked out of your car, place a call to your car insurance company if you have one to see if your insurance covers roadside assistance. In most cases, insurance coverage does not include roadside car maintenance. Nonetheless, you shouldn't rule out the possibility of your car insurance plan covering car lockout. Moreover, if it covers it, your car insurance company will probably be responsible for calling a locksmith service for you.
3. Warranty service
Some cars come with warranty service, and it's crucial in dire situations like this. One of the things on the warranty is a roadside maintenance service or a locksmith service. What you need to check are the situations that might qualify you for roadside maintenance. Therefore, check your car warranty for available options.
4. Call a tow truck service
Once you don't have the option of getting into your car, calling a towing service is the ideal thing to do to open your vehicle.
5. Unlock the car door yourself
You may have to improvise to unlock your car door if the above options do not work. Towing service providers are professionals to handle this, and they use tools like pump wedge (an inflatable device) to unlock car doors manually. To unlock a car door yourself, follow these steps:
In the top corner of the driver's door, insert a deflated pressure cuff.
Inflate the cuff till a small opening is created in the vehicle. (Note not to over inflate as it could damage the door).
Use a long tiny object like a metal hanger that can fill the little opening created
As you squeeze the metal hanger into the opening, slap the unlock button.
The door should open and you will be able to enter your car. While it takes patience and some maneuvering to get the pressure cuff into the door, do not over inflate as you would damage the door and spend more to fix it than calling a car towing service.
How to Avoid Being Locked Out of Your Home, Car, or Office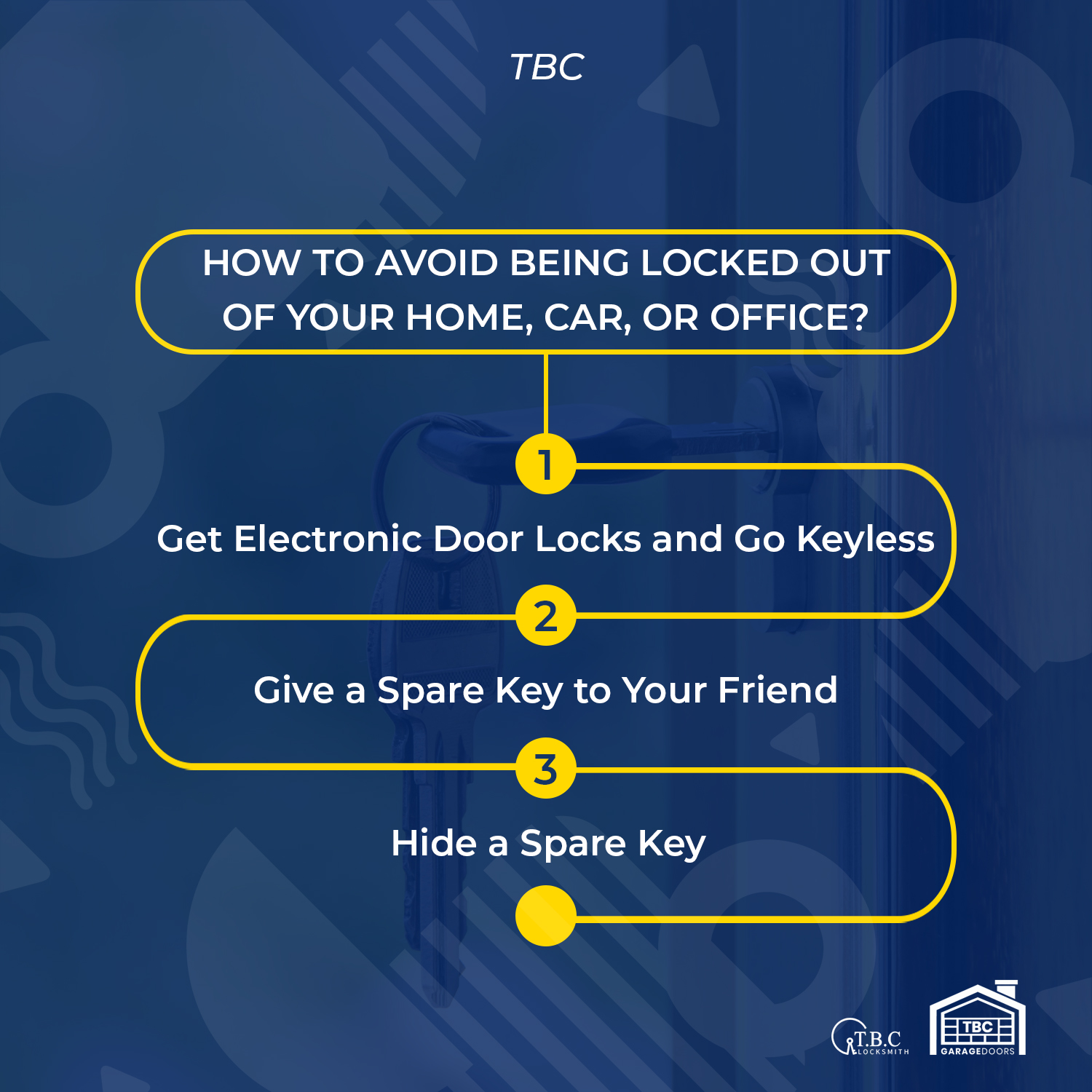 You can  think of adopting some of these options to save yourself from being locked out of your house, office, or car:
1. Get Electronic Door Locks and Go Keyless
A majority of electronic door locks and some automatic doors can be accessed remotely using a smartphone app with a custom code. This will ensure that you are never locked out of your own home. Another benefit of this method is that these keyless locks are paired with home security systems and a central monitoring station. Therefore, in a difficult situation beyond app management, a call to the monitoring center is the solution.
 2. Give a Spare Key to Your Friend
Do you have a spare key? Give this to a friend or family member that you can trust. Also, make sure the person has a flexible schedule or lives nearby to come when needed. This will help solve the problem and especially if they live close to you or you can easily access them.
3. Hide a Spare Key
Hide an extra key in a place that only you know. You can place this in outdoor key holders, such as under a rock or even in a planter. Make sure this is a place that you can easily remember and easily access the spare key.
Car, Office, or Home Lockout: Advantages of Calling a Locksmith 
Locksmiths are professionals who are knowledgeable about how to unlock doors. They will help save you the headache of trying to do it yourself and ensure that you don't cause damage to your door. Calling a locksmith will help you save time and prevent unwanted stress when you're locked out of your home, car, or office.
Having the right security solution for your property is critical. Therefore, you need an experienced locksmith that you can rely on whenever you need emergency locksmith services.
How to Choose the Best Locksmith Service
No one wants to have a problem with their locks, but there are situations we can't control. When the need arises, choosing the right locksmith service provider is vital for your safety and business. Some locksmith services you may need in the future include lock maintenance, emergency lockout, door repair, etc.
Unfortunately, there are many unprofessional locksmith service providers with excellent advertisements, so knowing how to choose the appropriate locksmith is very important. You want to have a skilled, knowledgeable, and quality-oriented locksmith.  Therefore, these are the ways to have to choose the best locksmith service, provider:
1. Be Sure of Your Locksmith Needs
Knowing what you want is the first thing when choosing your locksmith services provider. Common reasons you need a locksmith are mechanical and electronic lock installation, lock change, and making and duplicating keys. Other reasons are replacing access cards, fixing keyless doors' components, and responding to emergency cases.
Find out who can provide the service:- after you are clear on what you want from a locksmith, next is to get a list of the locksmith service near you and check through their websites to see the one that offers what you want.
Check the locksmith covered by your home management's insurance, car insurance, or automobile association membership. Even if your insurance package does not cover any repairing or maintenance, they may suggest a good locksmith for you
2. Find out the charges
The next process is to know how much each locksmith service provider charges and choose the best rate that suits your budget.
3. Ask to see credentials
You surely do not want to employ a company with a criminal background or risk your home or car security. Apart from security risks, you also want to have a locksmith who is professional and skillful. You may go further to check the business card too to make sure everything matches.
4. Pay attention to documentations and keep an invoice
Before you pay or give out your credit card to the locksmith services provider, make sure you check the quotations and other requirements properly. They may ask for documents to be sure you own the property too, so it's professional conduct. Additionally, demand an invoice after payment because you may need to submit it to your insurance company or keep it for references.
There are times you will get locked out of your house or car, calling a locksmith services provider might be the best option. Nonetheless, we believe this article has shared with you some other things you can do if you don't have access to a locksmith in time.