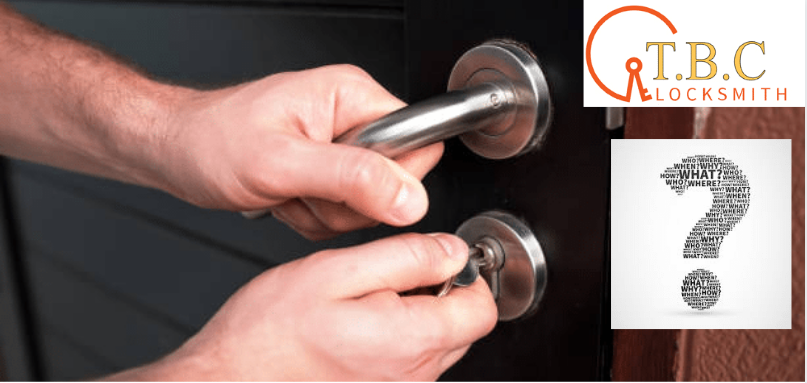 Protecting your house and property requires the service of a professional locksmith Toronto. It would help if you found a locksmith with a track record of excellent service and satisfied customers.
To change your locks or carry out routine maintenance, you will need the expertise of qualified locksmiths who have the necessary experience to quickly, safely, and affordably take care of all your lock concerns.
With the fast rise of the internet as a digital marketplace, several locksmith companies choose from. It can be challenging to know the right questions to ask when looking for locksmith services Toronto. To help you do your due diligence, here are some questions you can ask Toronto locksmiths before hiring a technician to fix your locks.
 8 Questions You Should Ask Before Hiring a Locksmith Toronto
 1. Are you certified and licensed?
Before hiring a locksmith Toronto, you should verify that the company has the appropriate certifications and licenses. Ensure that the locksmith you will be employing can do a good job and can legally offer locksmith services Toronto.
Avoid assuming that a locksmith has all the necessary paperwork to carry out the job you are requesting effectively. When the company you are working with is properly licensed, they can be held liable if something goes wrong. You also need to ensure that the locksmith is certified and has had the training to ensure that they are up-to-date with the best industry practices.
Also, make sure that the company you patronize is insured and bonded. Toronto locksmiths insurance coverage should have general liability, covering any damage that the locksmith may cause to the property.
 2. How experienced is the locksmith near me Toronto?
 To find a professional locksmith Toronto, you need to be sure that they can handle your locksmith needs safely. Inexperienced Toronto locksmiths can cause severe damage to your entire system.
It would help if you began by asking how long the company has offered locksmith services Toronto. The longer the work history, the higher the possibility of them providing quality services. It would be best if you also made inquiries about the work experience of the technicians.
 3. Does the company offer emergency services?
When searching for a "locksmith near me Toronto," ensure that the company you choose offers emergency locksmith services. If you have ever been locked out of your car or home, you will understand that you need a locksmith to help you get in as quickly as possible. Your best bet is a 24-hour locksmith Toronto.
Make sure that the company you choose is always on board and handles emergencies round the clock. No matter when you get caught up, you need someone who can show up and help you out immediately.
 4. What are your rates and pricing like?
 When searching for a locksmith near me Toronto, pricing and rates vary from company to company. You can find locksmith services Toronto that charge a flat fee while others charge you hourly. Be sure to enquire about any hidden charges or pricing that may be conveniently ignored until the job is done.
How much a company's services cost is often a determining factor for their getting hired. However, this does not mean that going with the most affordable company available is the best option. Make sure to carry out background checks and find a technician that is priced reasonably.
5. Do you run background checks on your employees?
 When looking for a locksmith Toronto, ask the company about their technicians. You do not want just any random person snooping around your home, especially when you need a 24-hour locksmith Toronto. You need to ensure that the company can vouch for its employees.
Ask the company about their hiring criteria. Do they conduct drug screens? Do they check criminal records? When a locksmith arrives at your house, request identification to show that they are from your hired company. Call ahead and ask for the technician you are expecting and make sure the name on the ID card matches up.
Most locksmith companies have a marked van or truck to make it easier for you to identify them. Upon arrival, a professional locksmith will provide identification and answer any questions you have.
 6. What are the services you offer?
 The locksmith you call to help fix whatever issues you have around the house must be able to get the job done. Typically, locksmith companies offer general services such as car and home lockout locksmith services . However, a few companies like to focus on specific locksmith services.
For more complex work such as smart locks or commercial lock systems, make sure you confirm whether the company offers such services. Ask how much experience they have to be sure that you are entrusting your needs to an experienced technician.
It would be best if you were on the lookout for companies that provide a wide range of services and are always available such as a 24-hour locksmith Toronto company. This will be very beneficial in the future and save you the stress of finding companies that provide specific services.
 7. What is your availability?
 Most times, when you need the services of a locksmith, it's an emergency. If you are locked out of your car or a security breach at your home, you need to know that you can quickly contact a 24-hour locksmith Toronto.
Streamline your search to local area locksmiths that will be able to reach you in time. Ask how fast the locksmith company can get to you when placing a call to them.
Ensure that the company you are contacting is a 24-hour locksmith Toronto. Even if your need is not an emergency, you might be faced with a future situation where you need a locksmith's services. Knowing you have a locksmith, you can trust in urgent situations will give you peace of mind.
8. Do you have a warranty?
 An excellent locksmith company should be able to guarantee their work. No matter what type of services you are looking for, make sure to inquire about the warranty offered by a locksmith near me Toronto.
There are various warranties; some warranties cover the workmanship while others cover the materials used for the work. Converse with your locksmith before making any commercial upgrades and request a hard copy of the warranty.
Along with your warranty statement, you should get a price quotation before the locksmith begins work. However, your locksmith might not be able to give an exact price because every project varies.
Locksmith Toronto: Frequently Asked Questions About Locksmith Services
There are several locksmith Toronto questions that customers will like to have answers to. We have compiled a list of locksmith services Toronto FAQs and answered them for you here.
1. Do locksmiths cut keys?
One of the areas of expertise for Toronto locksmiths is key cutting locksmith services . The best place to get your keys cut is at a professional locksmith. You can get various types of keys cut at a locksmith, including the cabinet, garage door lock, padlock, uPVC door, backdoor, and so on.
2. Can you trust a locksmith Toronto?
You do not want to end up with an expert you cannot trust when looking for locksmith services Toronto. The sure-fire way to know whether you can trust a locksmith is to research them before using their services. Check their reviews, make calls, and ask relevant questions. Be wary of companies that do not give you a specific company name when they take your calls but instead say cliche phrases like "24-hour locksmith Toronto."
Other steps you can take to ensure that your locksmith company is trustworthy include:
Find out if the company is a member of a national affiliate of locksmiths
Get referrals from family and friends; it is much easier to trust a locksmith who has been patronized by people close to you
Ask relevant questions and check online reviews
Compare price quotes and ask about any additional charges you might incur when you patronize locksmith Toronto
It is always advisable to find a locksmith you can trust before facing an emergency. This will help you carefully pick the best company for the job.
3. How much does the average locksmith make?
The average locksmith makes between $35,000 to $55,000 yearly. Depending on other factors such as emergency services and 24-hour locksmith Toronto, who work during the night, a locksmith tends to earn a significantly higher amount, almost double depending on the number of clients that the company has.
Toronto locksmiths are just starting to make $10 on the hour average, while a locksmith with over five years of experience can make up to $28 hourly.
4. Can a locksmith Toronto make a new key without the original?
On a few occasions, I have needed a locksmith near me Toronto to make me a new key without the original. This is something that happens very often to several people. There have been instances where people have had their keys get stoles, flushed down the drain, or even thrown out with the trash.
A locksmith Toronto can help you forge a key without having the original key in such a scenario. Most times, a locksmith is asked to make a spare key for a family member in an emergency. Usually, there is an existing key that can be used as a copy.
If you misplace the original key before getting a chance to make an original, there are two main ways a locksmith can make you a new key from your lock:
1. Code cracking
 If the lock you need a key for can be disassembled, a locksmith Toronto can help you crack the key code and make a new one.
For a Toronto locksmith to crack the code of your lock, they need to have a proper understanding of the pins that form the locks code. In a lock, there are keys of varying lengths placed in a particular order that differentiate them from other locks. When I misplaced my keys, I placed a call to a locksmith near me Toronto. He was able to make a matching key as soon as he took the dock apart and deciphered the pins' order.
2. Using impressions
 Making a key using an impression is one of the locksmith services Toronto. In some instances, a locksmith might not be able to dismantle a lock to crack it. When this happens, the locksmith needs to make an impression of the key.
A locksmith impression is a blank key that is inserted into the lock and turned repeatedly. When the key is turned, the lock pins will leave impressions on the blank key, indicating where cuts for a new key need to be made. This is usually an excellent way for a qualified locksmith to create a new key without dismantling the lock.
Using this method might be a bit tricky for Toronto locksmiths who are not very skilled; however, it is a very effective process when done correctly.
5. Is locksmith a good trade?
Becoming a locksmith is a great career choice for very skilled people with their hands and technical thinkers. A locksmith has to be flexible as the trade lends itself to logic and creativity. If you are a problem solver or like puzzles, you will enjoy being a locksmith Toronto.
6. Are locksmiths in demand?
One question on the lips of so many people is, "where can I find a locksmith near me Toronto?" A lot of people are always searching for companies that offer professional locksmith services Toronto. It is becoming increasingly challenging for clients to find reliable locksmiths, so credible companies are currently in high demand.
7. When should I call a locksmith?
 You can call a locksmith to secure your offices, intruders, valuables, theft, homes, premises, and other assets and ensure that you meet insurance requirements. Other reasons for you to call a locksmith include:
To replace the locks when you lose a key
To change the locks when you move into premises that were previously occupied
If you are locked out of a safe, your house or car
For high security lock installation services
A locksmith can help you tackle any problems you have with locks, keys, and safes.
 8. Why should I call a locksmith when someone can do it cheaper?
 When you call a qualified locksmith Toronto, you can be sure that you will get efficient, quality, and quicker service. This will help you save both time and money that would have gone into multiple fixes.
A skilled locksmith has the necessary knowledge to provide you with professional workmanship. Also, when you patronize a licensed, qualified locksmith, the chances are high that the work done is covered by insurance. If anything goes wrong, the company foots the bills and pays for damages.
9. Is being a locksmith dangerous?
 Whatever occupation you choose to be involved in has its dangers, and experts are faced with these challenges, including Toronto locksmiths. As a locksmith, you need to be aware of the occupational hazards that come with the trade and use adequate protective equipment to limit their exposure to such risks. A locksmith has to be extra careful when dealing with metal and sharp objects such as splinters and metal shavings.
Choosing to remain a professional locksmith Toronto is serious business and can be greatly rewarding for those who seek value and success. Like with every other occupation, some passionate locksmiths love their jobs, and others are not enthusiastic about their trade.
10. Is there a key they can open any lock?
Some keys can open any lock. A skeleton key, also known as a passkey, is a master key without a serrated edge that a locksmith Toronto can use to open various locks. This key is called a skeleton key because it has been stripped of other exterior components, leaving only its essential parts. A professional company can offer skeleton key making services.
A key that can open more than two locks is called a master key. A lot of master keys make use of pin and tumbler locks. To get a master key to function, it needs to have master wafers located inside the lock. When the wafers align, the key and lock can turn freely, and when it doesn't align, they cannot.
A master key works with multiple configurations of the master wafer. The unique component of the master key is that the locks contain the third pin. This pin is called the master wafer and can be unlocked using only a master key.
11. What should I do if my key breaks in the lock?
If your key breaks in the lock, avoid doing anything that will cause the broken fragment(s) to lodge further in the lock. Try to stay calm, do not panic, and call a locksmith to come and help you out immediately. A professional locksmith will be able to remove the broken key and forge a new one for you instantly.
12. What's a 999 key?
 A 999 key, also known as a bump key, is a specially cut key that can be used to bypass the security systems found in the conventional tumbler and pin locks. The term 999 keys are given due to the ridges of the key, which are cut to the maximum depth, which is 999 in a key maker. 999 keys are easy to produce – it usually takes less than five minutes for Toronto locksmiths to forge one. 
13.  How do 999 keys work?
A 999 key takes advantage of a vulnerability that pin and tumbler locks have. You will find two sets of pins known as the key pins and the driver pins in the standard pin and tumbler lock. These pins are stacked within the lock containing one key pin and one driver pin, pressed tightly against each other using a spring attached to the driver pin.
Each set of pins meet varies according to each pin stack, which is why a traditional key is cut at different depths to accommodate this purposeful misalignment. The minute the correct key is inserted into the lock, all the meeting points of each pin stack align to create a "shear line." After forming the shear line, the lock can rotate freely inside the cylinder, making it possible to open the door.
A 999 key is cut so that it does not allow it to line correctly with the pins; instead, it disrupts the pins. This disruption occurs when the key is struck by an object such as a small hammer or screwdriver. A 999 key is useful for opening up to 90% of cylinder locks available on the market today when done correctly. One important thing to note about using a 999 key is that it is undetectable, leaving behind no signs of forced entry.
 Conclusion
Hiring the right locksmith Toronto can be very easy if you know the right questions to ask. Working with a professional, the right lock can be a breeze if you know what you are looking for in locks. However, working with a professional can make the entire process even simpler. You can save yourself the stress of finding expert Toronto locksmiths by simply contacting a verified locksmith company.
If you are searching for a locksmith near me Toronto, you can contact TBC Locksmith for all your commercial, automotive, residential, and emergency lock services. We are an affordable locksmith company, and our team of skilled locksmiths offers top-notch solutions for car lockouts, homes, storefronts, offices, and so on. Our services include installing new locks, door repairs, rekeying locks, and making new keys.
We understand that having proper security solutions for your apartment is very important; that is why we are the first choice for a 24-hour locksmith Toronto. At TBC Locksmith, we are equipped with a large inventory of high-quality locksmith products, ensuring that we promptly respond to your needs.
All our Toronto locksmiths are licensed and insured, and we offer you affordable pricing with a 90-day guarantee. Contact us today for all your locksmith services Toronto.