At one point in time, you may have found yourself in need of a locksmith. A locksmith is a tradesman whose business is to fit, repair, or open locks to cars, offices, or buildings. Locksmiths use different techniques in offering their professional services to people who may have misplaced their keys or to those who may be locked out. That's not all; locksmiths also assist in cutting and duplicating keys. You can call on the service of a professional locksmith wherever a lock is fitted, be it windows, wooden doors, vehicles, or padlocks. Now, what does a locksmith do?
What Does a Locksmith Do?
You may have a generic view of what a locksmith does as a professional tradesman. However, to answer the question "what does a locksmith do? You have to look beyond fixing, changing, or repairing locks. Becoming a locksmith requires several years of skilled training. Locksmiths assist in fitting digital locks and cutting of keys. They are highly skilled in legally opening locked cars and safes. They also help to open jammed locks as well as replacing lost keys.
Locksmiths offer professional advice on different security options to safeguard homes, cars, and offices. A professional locksmith should be apt in customer relationships. He must understand a customer's security needs or issues and proffer the necessary solutions to meet the customer's request legally. A 24-hour emergency locksmith offers emergency on-call services when people are locked out of their cars, offices, or homes at odd hours.
How Can You Become a Locksmith?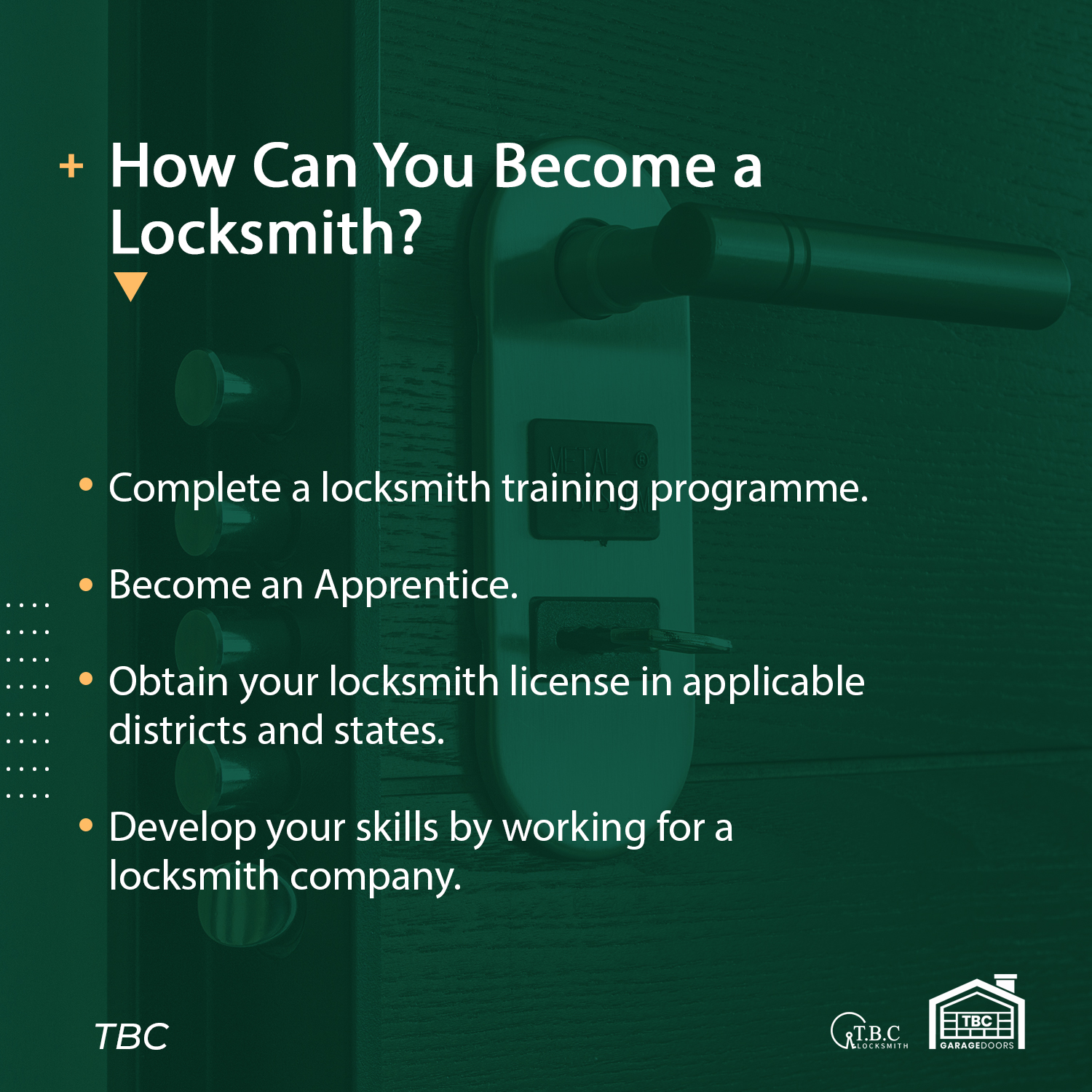 We've answered the question, "what does a locksmith do?" Now, to become a locksmith, you may have to follow a career path that will provide you with the necessary skill and proficiency in your chosen field. The following steps should be taken if you want to be a professional locksmith:
Complete a locksmith training program
The first step is to have a high school diploma qualification or its equivalent. Nonetheless, that cannot be enough for you to answer the question, "what does a locksmith do?" when asked. Once you have that, you may have to get enrolled in a training program for locksmiths. You can find these programs in your local vocational schools or colleges. The skills you will acquire from this training will equip you to become highly proficient as a professional locksmith.
The training modules cover both assessment and hands-on training, which may take months or years to complete. After your training, you can become a certified locksmith. To work as a professional locksmith in some places, you may require a license. Be sure to enroll in a locksmith training program that may guarantee you get an operating license.
Apprenticeship is suitable for those who may not have formal education and it is also suitable for educated individuals who would like to sharpen their practical skills. It offers you the opportunity of becoming a trainee or an entry-level locksmith. You can develop the skills the appropriate skills that will enable you to function effectively as a locksmith by working with experienced professionals.
You may get a paid apprentice offer if you have pre-knowledge and little experience about what a locksmith does. However, most of the apprenticeship roles do not come with remuneration, but they offer you hands-on experience that is needed to help you get a paid position.  It is advisable that when taking on an apprenticeship position, you do it under a licensed locksmith to be sure that the training you are getting is comprehensive.
Obtain your locksmith license in applicable districts and states
As earlier stated, some states may require that you get a certificate or license before you can operate as a professional locksmith. To get such a license or certification, you may have to undergo a skill and proficiency assessment to determine your competency level as a locksmith. Once you pass the skill assessment satisfactorily, the licensing body responsible for offering designation or providing certification will issue you a license.
There are several designations given to professional locksmiths, depending on their proficiency or area of discipline. Some of these designations include, Registered Locksmith, Certified Master Safe Tech, or Certified Automotive Locksmith. Before you are given a license, you may also undergo biometrics registration and submit yourself for a background check.
Develop your skills by working for a locksmith company
After your apprenticeship or vocational education, you may choose to work with a locksmith company that is well established to help you improve your skill and understand how the business operates. You may also learn how to handle other administrative tasks that can help you become an independent locksmith. Some state laws require a locksmith to have worked for some years under a professional locksmith.
You can input emergency locksmith near me on Google Search to find companies that offer 24-hour emergency locksmith services. Alternatively, you can search for a small locksmith company that works only during business hours. There are other parallel industries, hardware stores, or security companies that you can work with to develop yourself as a professional locksmith.
When you do all these, then you can be bold to answer the question, "what does a locksmith do" accurately and even do locksmith jobs successfully. 
How Long Does It Take For You to Become a Locksmith?
The duration required to become a professional locksmith varies between several months to a couple of years. You can complete some locksmith training programs within three months, and your state may allow you to practice immediately. However, some states may require several years of training, including licensure or certification, work experience, or formal education. On average, you can become a professional locksmith within two years.
Is it Cheaper to Replace or Re-key Locks?
Most people believe that replacing a lock is the most convenient approach to take when moving into a new home or losing their house keys. That may not be true because there is a cheaper and convenient option to take in such situations. Re-keying your lock is the more affordable and better solution to tackling lock issues than outright replacement. So what is the difference between replacing and re-keying, and why should you opt for re-keying instead of replacing your lock?
Lock replacement involves changing your old to a new lock. However, re-keying has to do with replacing the lock's working components without changing the lock itself. To do this, the locksmith replaces the key components such as tumblers or pins. The procedure may also require rearrangement of the pins to stop working with the existing lock.
How Much Does it Cost a Locksmith to Open a Door or Car?
Locksmiths charges range, depending on the type of work. On average, a locksmith may charge up to $155. The minimum amount a locksmith can charge for a trip ranges between $50 to $100. Locksmith emergencies after working hours may cost between $150 to $250. When re-keying or installing safe or home locks, you may have to pay between $50 to $100 for an hour. It may cost you between $50 to $100 and open a locked car, depending on the distance the locksmith took to get to where the car is packed.
What Are The Job Prospects For Locksmiths?
The locksmith profession has a slow progression, but it also comes with high prospects. It has metamorphosed from the crude mechanical state to the digital stage. The career path of locksmiths is broad and multi-faceted. Locksmiths are responsible for changing locks for individuals alone; they provide complete security systems for different clients.
Technological advancement has increased the demand for locksmiths. You can choose to work as a commercial locksmith by owning your small blacksmithing business or you can become an automobile locksmith that specializes in opening, repairing, or replacing vehicle locks.
What to Do If You Lose Your Keys and Have No Spares
Losing your keys can be very frustrating, but what is more frustrating is finding out that you don't have a spare key. What should you do under such a condition? The first thing you should do is to stay calm and avoid unnecessary panic because the situation can be salvaged. Whether it's your house or car key that is missing, you don't have to worry because you can Google for an emergency locksmith near me, and you may find one who will help you open your locked car or house door. Irrespective of the time when you discover that your lock is missing, you can get a 24-hour emergency locksmith service to help you resolve the issue.
What Household Items Can You Use to Pick a Lock?
So, what does a locksmith do? Well, some people will say they pick locks. However, picking the lock is a DIY activity that some people have to do frequently. So, if you've lost your key, you don't have a spare key, and a locksmith is not forthcoming, you might want to pick your lock? Therefore, what household items can you use to pick a lock and open the door? You can make use of a spam key, paper clip or eyeglass repair screwdriver, bobby pin, butter knife, metal hanger, etc., to open your bathroom, bedroom, or main door lock.
However, there is a need for you to be careful not to damage the lock. To avoid damaging your door lock, you can call on a professional locksmith to help open the door and re-key the lock without damaging it. The locksmith can also affect the repair of the lock if it is damaged.
Now that you've gotten the answer to the question, "what does a locksmith do?", are you in need of any locksmith emergency service? You can contact us at TBC Locksmith to get premium locksmith services at affordable rates. We attend to your needs 24/7 round the clock.