One of the most frustrating mishaps a homeowner can experience is losing their keys. You could accidentally drop them under a couch cushion, a chair or misplace them. House keys are one of the most commonly lost items, according to research. Aside from being frustrating, lost keys jeopardize the safety of your home. With the high risk of keys being lost, you need to know what to do when you lose your house keys and ensure that your property remains safe.
What To Do When You Lose Your House Keys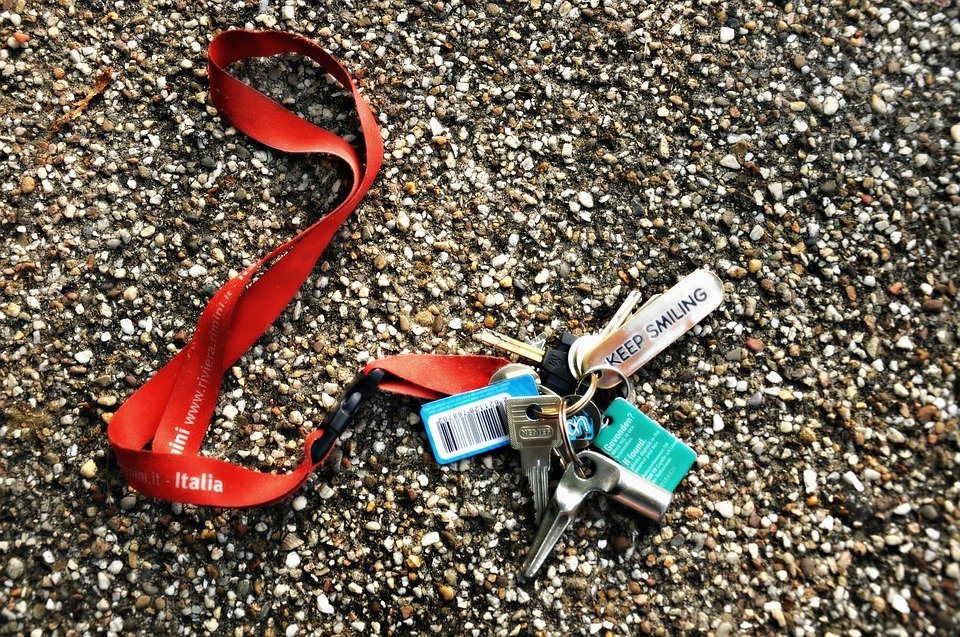 Losing your house keys is an incredibly stressful situation. However, there is a proper way to conduct yourself when you realize you no longer have your keys. Here are a few steps that can help.
1. Remain calm and avoid breaking into your own home
This first point is the most practical thing to remember, even though it doesn't seem technical. Losing your house keys is sure to upset you, but you cannot think straight if you panic. Always remember that just because you've misplaced your keys doesn't mean you'll be stuck outside forever.
Under no circumstances should you attempt breaking into your property. Believe it or not, you can cause damages that will cost more to fix and even injure yourself in the process.
2. Contact your insurance company
Whether your house keys are missing or have been stolen, you should contact your insurance company. Depending on your coverage, homeowners insurance policies may cover repairs by a professional. Your insurance company may be able to get you back inside your home at little or no cost at all.
3. Call a locksmith
If you do not have insurance and have misplaced your only set of house keys, the following line of action is to contact an experienced and reputable locksmith. A professional locksmith can make you a new key without even needing the original key at hand. Although the pricing and time required to make a new key depend on the type of door lock you have.
Before you call a locksmith to help you replace your house key, consider whether you can easily trace your lost key back to your property. If you feel the safety of your house may have been compromised, you might want to consider getting your locks changed instead. Even though this is more costly than a key replacement, it will give you peace of mind as you no longer have to worry if your keys have fallen into the wrong hands. It's a lot better to be sure no one can gain access to your home with your missing keys.
Moreover, lost keys can render your home insurance invalid. If you misplace your keys and another person lets themselves in and burgles your property, you may not be able to make a claim. Your home insurance provider can accuse you of not taking the appropriate action to ensure that your home remains secure. Several insurance policies require that you present evidence of forced entry before they can pay your claim.
If you are considering changing your locks completely, it is a different but straightforward process. The locksmith may begin by either drilling or picking your lock to gain entry. Next, they will change the locks and provide you with a new set of keys.
4. Contact the police
If you are convinced that your keys have been stolen and are not lost, proceed to file a police report with your local police department. This step is important for a few reasons. First, the chances are high that your wallet or purse is stolen along with your keys. This puts you at risk for identity theft. You need to have a paper trail as evidence in case any foul play begins to occur. Also, most insurance companies require a police report if you file a theft claim for them to begin the paperwork.
How Much Will it Cost To Replace My Keys?
The cost of replacing your keys depends largely on the kind of key you require and the type of door lock you have. The services rendered during key replacement also tend to affect the pricing. However, most locksmiths charge a fair price, and you should expect to spend 30 to 100 dollars, depending on your needs.
Preventive Measures To Take if You Have Misplaced Your House Keys
Losing your house keys once is more than enough to make you extra cautious. If you discover your keys are missing and you are sure that they are not destroyed, they could be in possession of someone else. Here are some measures you can take to prevent your house keys from going missing again.
1. Change your locks
For the security of your home, you need to change your locks as soon as possible. Losing your keys doesn't always mean you need to get new locks. However, to ensure that your property remains secure, it is best if you do so.
The last thing you need is for the security of your home to be jeopardized because you cannot find your keys. When you change your locks, you are given a new set of keys that you can keep an eye on and hopefully not misplace this time.
2. Get your locks rekeyed
If you do not want to go through the stress of changing your locks, you can simply have them rekeyed. Rekeying your locks means that the pins inside the current lock are rearranged or replaced, meaning the original key can no longer open the locks. This is a less expensive process than getting your locks replaced, especially if the locks in your house are high security.
3. Consider a keyless lock system
If you have misplaced your keys before, you might want to consider an electronic or automated lock system that doesn't require keys. Keyless locks are convenient, safe, and stress-free. This means you do not need to worry about your keys every time you go out.
4. Check your insurance policy
If your house has been robbed by someone using a spare key or lost key, insurers are likely to be considerate when considering your case. However, you cannot completely rely on that. Carefully consider your insurance policy and make sure that a break-in does not render your insurance void.
Should I Get Spare Keys?
Even though spare keys are a risk when considering burglaries and theft, there are several solid reasons why you should have spare keys around. If you misplace your keys, it is great to know you can still gain access back into your home while waiting for a change of locks. You might also want to give copies of your keys to family and close friends so they can have access to your home during an emergency.
Even though it might seem like a great idea to print as many sets of keys as possible, you have to be careful and keep track of your spare keys. It would be best if you were very cautious about who you give them to. It is your responsibility to only give your keys out to honest people that you can trust. Giving out a spare key can end pretty badly. If there is a burglary or a break-in due to a spare you handed out, your insurance can easily become void.
Ensure you look after your keys properly, especially since you have a lot to lose if they fall into the wrong hands.
Here are a few tips that can help:
When giving a spare key to children or young adults, remember to emphasize the importance of home safety and why they should not give the keys to other people.
Be very cautious when "hiding" spare keys on your property. It is very easy to leave them under your doormat or in the flower pot, but you should note that these places will most likely be checked by a burglar trying to gain access to your home.
Do not go about announcing that you have spare keys to your home; you do not know who might be listening.
Make sure you only give neighbours or friends you trust or are familiar with copies of your keys.
Conclusion
Losing your house keys can be stressful, but with an expert locksmith, a solution is just around the corner. If you need an expert locksmith Toronto, you are in the right place.
TBC Locksmith is a reputable company that provides professional lock installation, replacement, and repair. We also offer commercial, automotive, residential, and emergency door repair emergency lock services. Our specialized team is available whenever you need help.
The services we offer include top-notch solutions for car lockouts, homes, storefronts, offices, and so on. We are also skilled in the installation of new locks, top-notch door repairs, locks rekeying, and key manufacturing.
Contact us today for a premium lock repair/servicing experience.