Protecting yourself and your property must be number one on your priority list. Therefore, choosing the right lock for your house or office is how to make sure your property is fully secure. It will help if you put locks at all access points in your house to guard against security vulnerabilities. However, to choose the right lock can be overwhelming.
From basic locks to childproof locks and bicycle locks, locking systems can prove challenging to buy and maintain. There are so many options to choose from when it comes to locks. However, the perfect choice should be one that is reliable and convenient for you to use.
Many people believe that merely purchasing a lock from a DIY shop is enough to make their homes secure. In reality, however, changing or upgrading your lock is not as easy as it may seem. It goes beyond just choosing the one that looks right, as it involves putting a lot of variables into consideration.
Here is a short guide to helping you make a more informed decision on the right lock to secure your home and valuables.
Choosing the Right Lock: Types of Door Locks
Most people cannot tell the difference between medium security locks with 6 pins and high-security locks. When trying to purchase a lock, you might be confused about what type of lock to buy.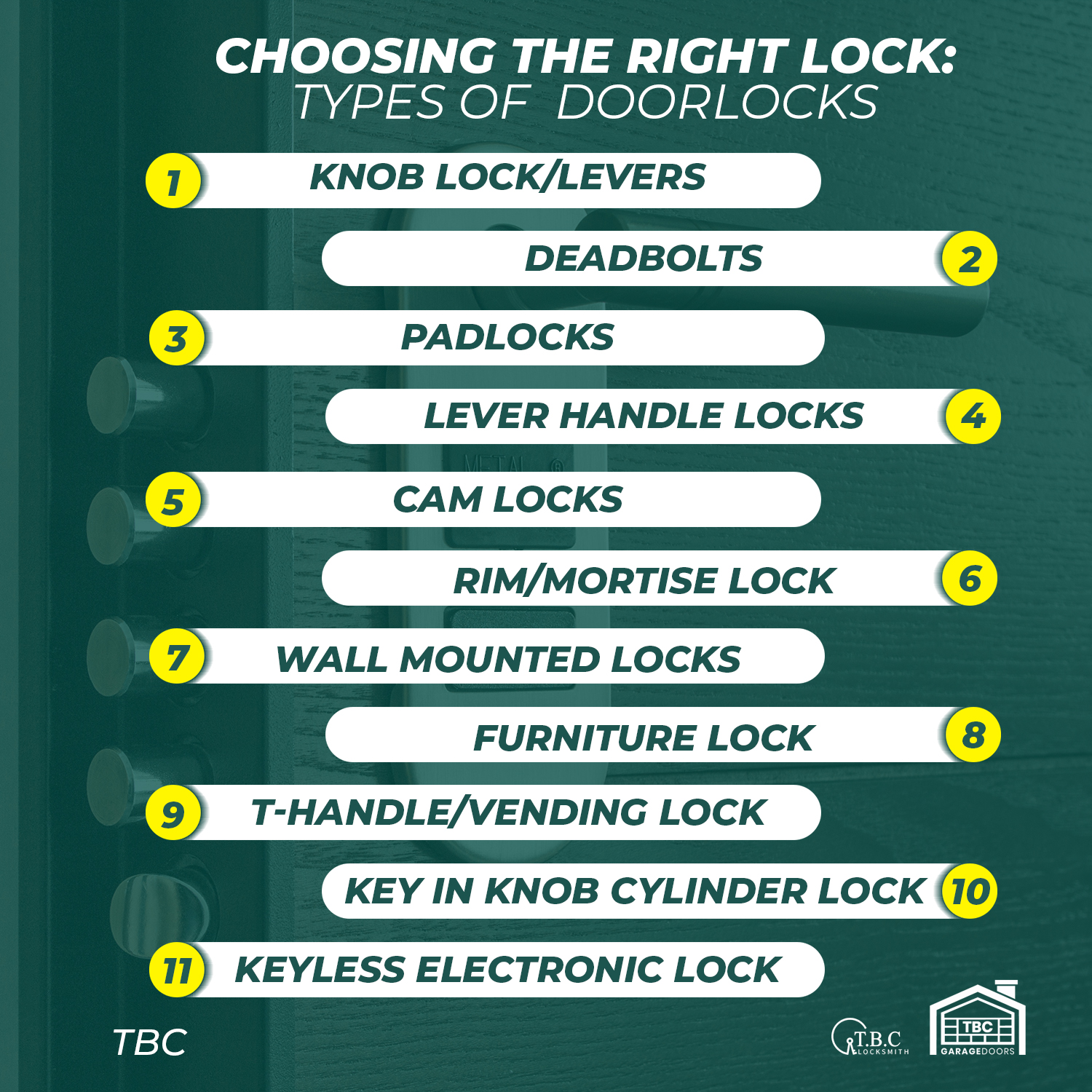 You can group locks into three main classes, which are:
Knobs/Levers
Deadbolts
Padlocks
Knobs/levers and padlocks are the secondary or medium security locks, while deadbolts are the main high-security locks and prefer securing homes.
Knob Lock/Lever
Knob locks/Levers are popularly used on external doors in residences alongside deadbolts. Although you can use knobs as the primary security locks for doors, it isn't encouraged because they can be bypassed using a wrench or broken with a hammer.
Therefore, it would help if you always reinforced your doorknobs with deadbolts to ensure maximum security.
Deadbolts
Typically, deadbolts are installed on external doors and are of three types: Single, Double, and Lockable Thumb Turn.
Single deadbolts have one general weakness: once the bolt is accessible from the inside, you can open the door using the thumb turn. With double cylinder deadbolts, you can use key cylinders inside and outside to tackle the issue of picking the lock. However, this can be stressful as the lock requires a key to open the door from the inside if locked. This type of lock is not ideal for emergencies, as you will not be able to come outside without using the key.
A lockable thumb turn is a hybrid of a single and double deadbolt. It has a thumb turn on the inside that functions as a standard cylinder deadbolt. The only difference is that it can be left unlocked using a key, so it doesn't lock or unlock the door. This method solves the need for a key to open the door from the inside- allowing it to function as a standard cylinder deadbolt and making it the most secure and flexible deadbolt.
Padlocks
Unlike knobs and deadbolts, padlocks are not permanently attached to anything else. You can find them in a range of sizes – they are also very portable and the most recognizable type of locks, such as mailbox locks.
Padlocks are available in two main variants – the combination padlock and the keyed padlock. Combination padlocks come with one or more dials that pop the lock open when the right number combination is entered. These types of locks are relatively easy to pick.
Keyed padlocks have two types of locks – rekey locks and non-rekeyable locks. A rekey lock allows you to change the key that opens the lock, while a non-rekeyable lock does not. You can also have a key-retaining and a non-key-retaining lock.
With a key retaining lock, you cannot pull the key when the lock is open. On the other hand, a non-key-retaining lock allows you to take the key out when the lock is open.
4. Lever Handle Locks
Lever handle locks are used mostly in commercial settings for inner doors. It is much easier for users to open lever handle locks because of the large push-down handle instead of the knob that requires the user to have a firm grip while turning the knob. In instances where handicap accessibility is needed, lever handle locks may come in handy. These locks may be designed for right or left-handedness, depending on preference.
It is critical that you measure the backset correctly when purchasing lever handle locks. Levers often come under torque attacks in cases where excessive pressure is applied to force open the lock. You may opt for a clutch-type of lever handle lock as it rotates instead of yielding when someone attempts to force it open.
5. Cam Locks
Cam locks have a wide range of applications but are mostly used in mailboxes, filing cabinets, or applications requiring lower security levels. These locks are designed in different lengths. Cam locks utilize several cams or tailpieces in interfacing with other locking mechanisms. These cams can either rotate anticlockwise or clockwise, and you can limit their rotation angle to between 90 or 180 degrees.
6. Rim/Mortise Lock
Mortise or rim cylinder locks find applications on some specific apartment doors, entry glass doors, or commercial doors. Rim and Mortise locks are quite similar. However, some locks have a rim/mortise combination. The primary bad difference between both locks is in the hardware application they are used for.
Rim cylinder locks are mounted inside the doors and are used primarily for rim latched doors. A long metal piece extends out of the rear of rim locks to interface with a lock mechanism. Two screws hold the rim locks in place from inside. In comparison, Mortise locks are threaded, and they are screwed into the mortise hardware.
7. Wall Mounted Locks
Wall-mounted locks like the name implies, are mounted on walls. The fireman's box or knob box is the most common type of wall-mounted locks. These locks are often found in many buildings and are used as emergency access to the keys. The application of wall mounted locks spans beyond the storage of keys, and they are also used as a small safe for depositing assets. Most wall-mounted locks are installed during building construction, although some wall-mounted locks can be installed into existing buildings. You can install mounted locks on different wall surfaces. They are mostly mounted with alarms or covers sensors to interface with the security system, which is useful in preventing unauthorized access to such buildings.
8. Furniture Lock
Furniture locks cover a wide range of locks which include sliding doors, cabinet desks, etc. The push-button and the bolt style are the two common furniture Lock's styles. The bolt style locks are designed with a flat metal extending outside the lock to keep the device secure. You can find bolt furniture locks on drawers, cabinets, desks, and several other devices.
The push-button style of furniture lock is designed with a rod, extending out of the lock's rear, which provides security. The push-button lock mechanism involves the popping out and retracting of the rod into the lock's body when unlocked. The reverse process occurs when re-locked as the rod is pushed back into the lock's shelf.
9. T-handle/ Vending Lock
You can find vending locks in T-handle locks, vending machines, and other applications. It is easy for you to replace T-handle locks because you can easily pull out the lock after opening the device. To upgrade your T-handle lock, you can insert the new lock back into the device after removing the old one. These locks come in two types, the deadlatch, and the spring latch. You must use a key when re-locking a deadlatch, but you do not need a key for unlocking a spring latch.
10. Key In Knob Cylinder Lock
The Key In Knob Cylinder (, KIK) is found in most doorknobs, deadbolt, and inexpensive levers. It is also used in several other applications including sliding glass doors. The cylinder in a KIK is hidden within the lock. You can only see the circular section of the cylinder at the surface. The cylinder is held in place by a screw. Most Kik cylinders look alike, but there are no standard design specifications between them which may pose a challenge during replacement.
However, some KIK manufacturers have distinguished their brands for better identification. KIK cylinders also have different tail designs at the end of the lock. Some of these unique tail designs include the floating tail and the fixed tail. For the fixed tail, there is no way the tailpiece can rotate independently of the cylinder. The floating tail, on the other hand, allows the tail to rotate independently of the cylinder.
11. Keyless Electronic Lock
The keyless electronic lock system is not very expensive. However, you may require a high-tech security professional to install the device if you lack the technical know-how to install it. The applications of Keyless Electronic Lock include safes, highly secured containers, clinics, offices, etc. They are generally used in locations where restricted access is required such as banks, hospitals, and airports.
What to Consider When Choosing the Right Lock
Locks are not an everyday purchase, so you need to get things right when choosing the right lock. You have to remember not to prioritize style over function, as quality and durability are more important features to look out for when picking a lock.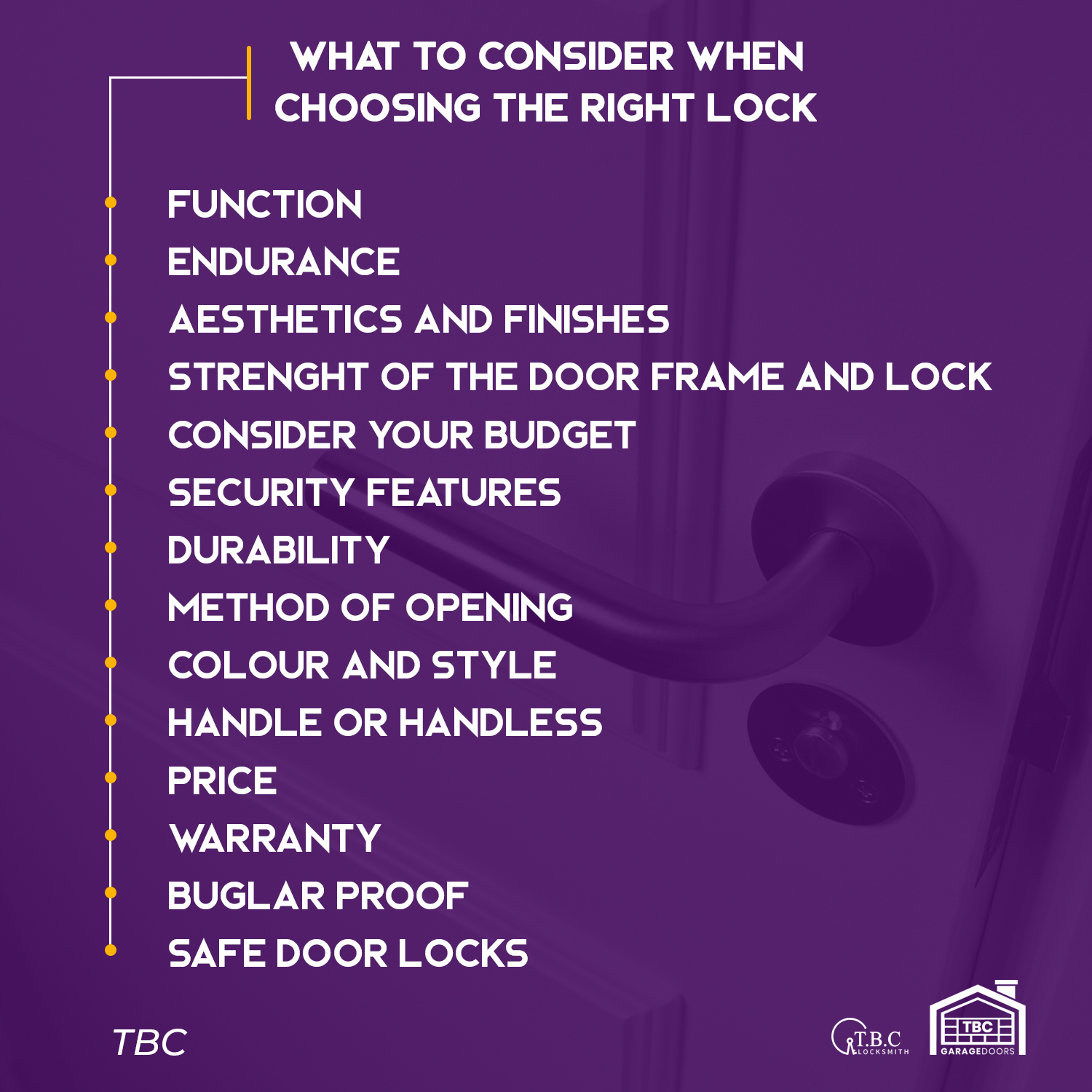 Here are some points to consider when choosing the right lock:
Function
You need to define the primary function of the lock you're buying. What is the lock for – privacy, entry, or passage? Washroom locks and patio door locks differ because of their functionality.
For instance, an interior door does not require as high a security lock as a front door. A high traffic area such as the washroom requires a more durable lock; hence, a higher lock grade is advised.
Endurance
The endurance of your lock depends on the grade that you have purchased. Once you select a particular kind of lock and grade for your home, you should use the same lock throughout; this might exclude exterior doors, of course. External doors require maximum security lock grade every time.
Locks are generally graded from grade 1 to 3, with grade 1 offering the most security and grade 3 offering the least.
Aesthetics and Finishes
After considering the more essential points of function and endurance, you can then focus on aesthetics. Locksets should meet strict security standards with a variety of finishes to enhance how your door looks.
Today, there are several finishes and shapes to go with the décor of your home.  Locks can come in aged or oil-rubbed bronze, distressed, polished or satin nickel, satin or bright chrome, aged or oil-rubbed bronze, and so on. These finishes typically cover lever handles and deadbolts. You can choose any of them based on other factors mentioned in this article.
Undeniably, aesthetics are an essential factor in selecting a lock, but not the most important.
Strength of the Door Frame and Lock
Your door frame must be as strong as your lock. This point is vital to ensure maximum security, as a weak door with a strong lock can be torn down easily. And vice versa – you don't want to attach a weak lock to a strong door.
Ensure that you use a box strike (forged from sturdy metal) and install the longer screws on the door frame. This rule also applies to other properties such as file cabinet locks and safe locks. You don't want to install a lock that is sturdier than the frame that holds it.
Consider Your Budget
The higher the quality of your locks, the more expensive they will be. Before selecting a lock, you must decide how much you're willing to spend. Budgeting will save you time and help you narrow down your options.
When you set a budget, it will help you make a sound judgment and decide whether to forgo aesthetics for functionality or vice versa.
Security Features
Security should be the primary reason why you are buying a lock. Ensure that you select the right lock that can guarantee maximum security. Hooks are more secure for doors due to the presence of vertical locking bolts. Getting a highly secured lock helps you feel safe and helps protect your valuables from burglars. High-security locks are used in banks, offices, hotels, and residential buildings. You might need to employ the services of a professional high-security lock installation services provider to get this done for your home.
Durability
The durability of your locks should be a critical factor to consider in your selection of locks. Whether you are considering electronic, digital, or mechanical locks, ensure that they are durable as that is a viable form of property investment. An ideal lock should be weather resistant. It should also be resistant to water and rust.
Method of Opening
There are several ways of opening door locks. Fingerprints open some locks, others by touchscreens, some by RFID, and manual keys. Whatever method of Opening your lock has, ensure that it is easy to use and not one that would get you stuck during an emergency, you can use a password or RFID cards for some locks. The most important thing is that you can easily access it while unauthorized persons find it difficult to open.
Colour and Style
Style and color of locks is another factor to consider when choosing a lock. Some people love their interior decor to match with their lock. A lock that does not match with the door mAy looks odd. You might want to consider buying a smart but secure lock if you are concerned about elegance and beauty.
Handle or Handless
Many people are confused about buying handle or Handless locks. Doors with handles are often more secure in comparison to handless locks. It may require more effort to break handle locks due to the extra weight the handle provides.
Price
Price is critical when choosing the right lock. Ensure that you buy a lock that worths the value you paid for it. Do not compromise your safety because of the price but ensure you buy one that offers great security and within your spending capacity. Carry out proper research on the price and security features of a lock before buying.
Warranty
Buy a lock that offers you a warranty for a specific period. It may be a year to five years, depending on the type of lock or the manufacturer. Select brands that offer you a reasonable warranty period to help you save your money if there is a factory defect within the specified period.
Burglar Proof
Calling a home break-in repair services provider might be both costly and regretful if the break-in was caused due to poor door lock. When choosing door locks, you need to ensure that they are sophisticated enough to guarantee your privacy and security. Selecting burglar-proof locks, especially exterior doors, is very important to prevent a break-in. You can group these types of doors into two main types:
Deadbolt doors: a deadbolt is a sure way to secure your exterior doors. The ideal choice would be a grade 2 deadbolt with two hardened pins that you can attach via the inside of the door frame. A heavy-duty strike pate will prevent your door from being kicked down. Also, select a keylock for the inside instead of a thumb lock to be more secure, especially if your door has sidelights or decorative lights.
Drill-resistant doors: the more difficult your lock is to penetrate, the higher your chances of keeping burglars out. One major cause of lockset failure is drilling. Choosing a drill-resistant lock can help deter break-ins and slow down the intruder in the event of an attempt.
Safe Door Locks
For some people, choosing the right lock involves buying a lock that protects their privacy. With privacy locks on internal doors such as bathroom doors, you have to ensure that you can open the door from the outside. This modification is to facilitate rescue in case of an emergency. Privacy locksets have a handle that sits on the inside of the room. The door exterior also features an emergency release that allows you to unlock it outside if the need arises.
No doubt, it can become challenging when deciding the type of door lock to buy on the market. Nonetheless, we believe the tips and ideas in this article will help you in Choosing the Right Lock that will meet your needs.