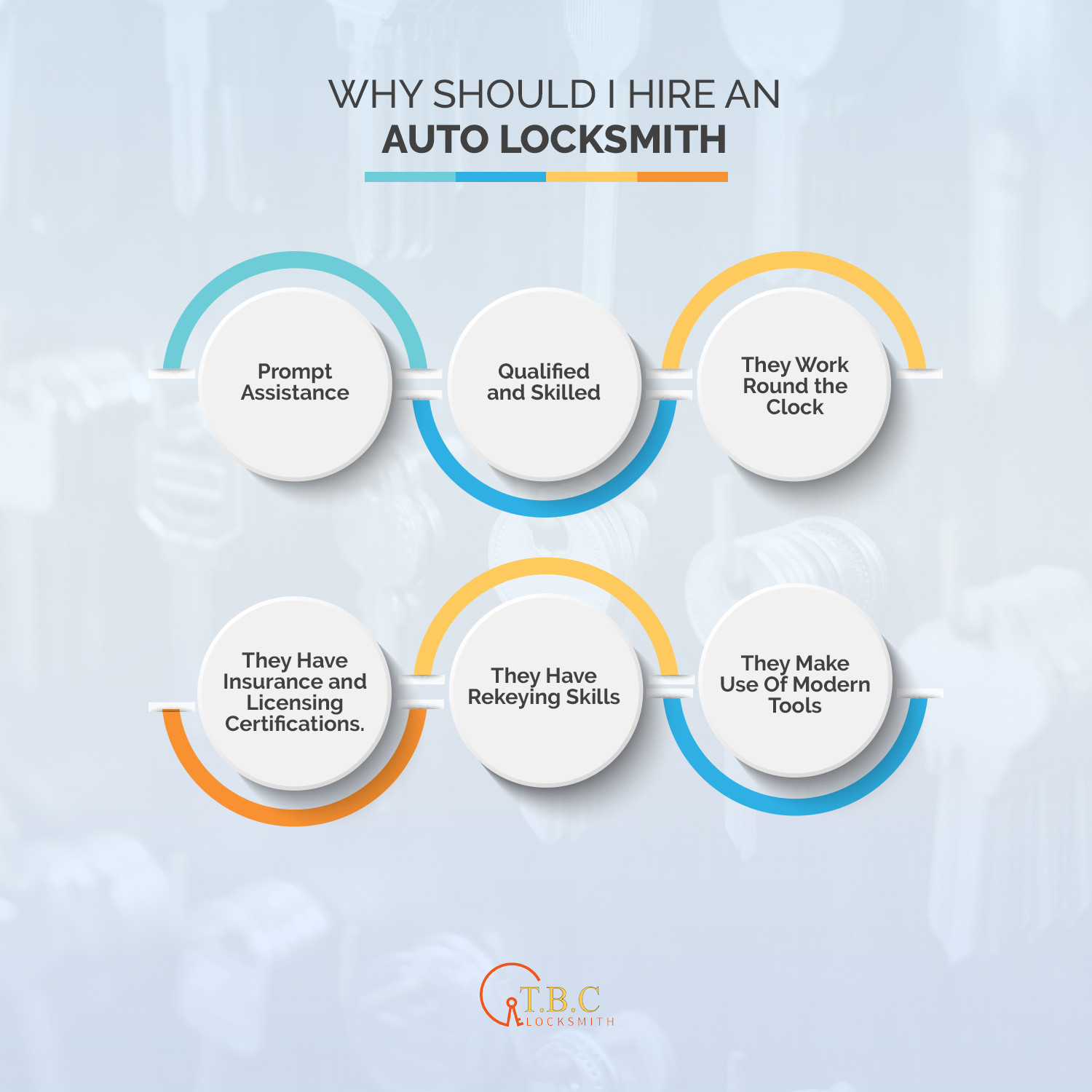 Most people have needed the services of an auto locksmith in Toronto at one time or the other. If you have been locked out of your car, forgot your keys in your car, or completely misplaced the keys, you need the help of an auto locksmith.
On certain occasions, your car lock will not open despite multiple attempts, or your keys get broken inside the lock. This will prevent you from gaining entrance to your car or moving it to a safe place. If you have misplaced your car remote or experienced a car lockout, you need auto locksmith services.
Auto locksmiths are very specialized. Not only can they help you gain access to your car if you have lost car keys. They can also help repair your car's ignition switch. In this article, discover all you need to consider when choosing an auto locksmith.
Factors to Consider When Choosing an Auto Locksmith
When looking for an auto locksmith, you must find the best. Auto locksmiths work with one of your most prized possessions, and this is why you need to pay extra attention to who you are hiring.
Here are a few things to consider when choosing an auto locksmith.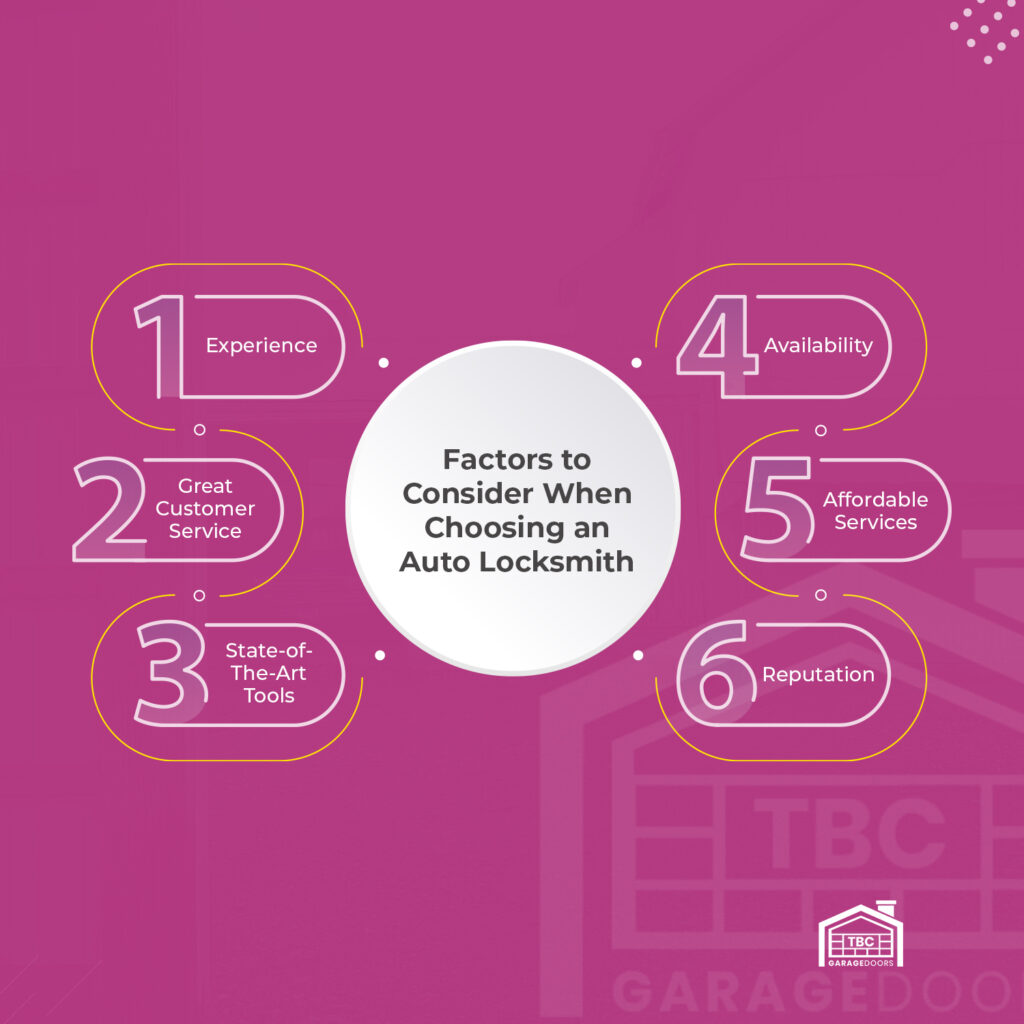 Experience
You want to go for a knowledgeable auto locksmith that has been in the industry for a considerable amount of time. The locksmith industry's technology continues to evolve, and you want an auto locksmith Toronto that can solve your lock problems.
Great Customer Service
A professional auto locksmith will attend to all questions you have and respond to all your calls. If the locksmith you are about to choose doesn't satisfy your curiosity regarding their job, they are not the best option for you. Find a locksmith that will make you feel confident and comfortable while providing you with quality services.
State-of-The-art Tools
Auto locksmiths need to have tools that are up to date to handle ever-changing technology. When you choose a professional auto locksmith with advanced tools, they are more efficient and work faster. Doing so will save you money and time in the long run.
Avoid locksmiths with old tools as they might end up ruining your car lock, prompting you to spend extra money on a replacement.
Availability
The locksmith that you settle with should be able to provide their services 24/7. If you have an emergency that requires the attention of an auto locksmith, you need to know that you can always count on them. Check that your auto locksmith offers emergency services and takes calls all day round.
Affordable Services
Difference locksmiths have different rate cards for the same services offered. When choosing a locksmith, go for one that will provide satisfactory service without exceeding your budget. The great idea is to get a quote from all the locksmiths you have shortlisted for the job.
Reputation
You want to patronize a locksmith with glowing reviews and an untainted reputation. A bad reputation is a red flag when choosing a locksmith and if you want nothing but exceptional results.
Why Should I Hire an Auto Locksmith?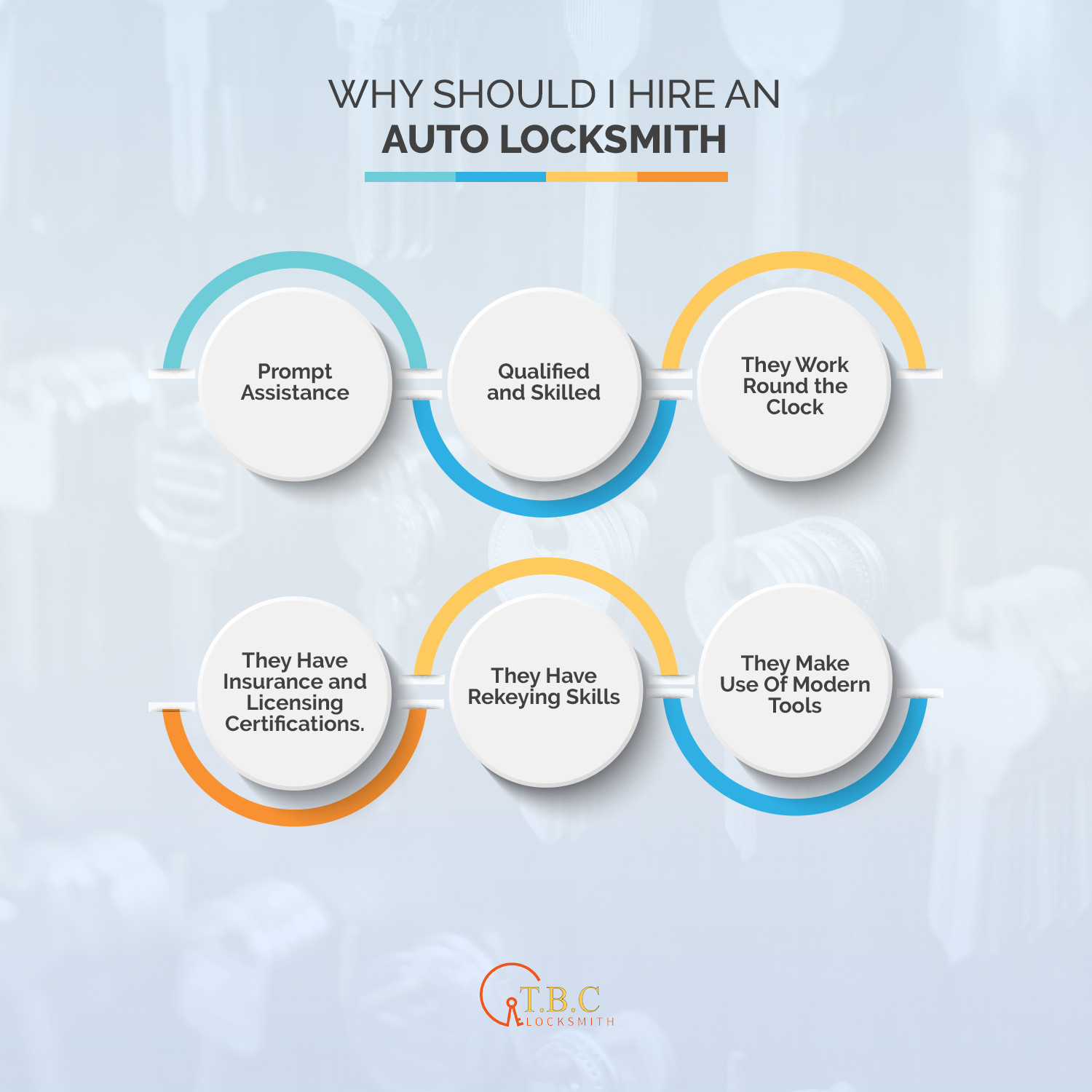 Many people ask, "why should I hire an auto locksmith?" Often, clients assume that just any locksmith can perform the duties of an auto locksmith. However, this is not the case. An auto locksmith is a specialist in the area of cars and car lockouts.
Here are a few reasons why you should go for an auto locksmith instead of a general one.
Prompt Assistance
The key benefit of hiring an auto locksmith is that they fix your car problems within a very short time. When you experience a car lockout, you need that to be rectified as soon as possible. An experienced auto locksmith will have you back in your car in no time.
Qualified and Skilled
The locks present on vehicles are very different from residential locks. Auto locksmiths have received the necessary training to work on a car and other vehicle locks. An Auto locksmith can do the following:
Repair fuel locks
Install and repair ignition locks
Repair car door locks
Fix central locking systems
Remove broken keys from locks
Make replacement keys
Repair transponder keys
Program car remotes
They Work Round the Clock Availability
A professional auto locksmith will always be available to offer assistance. If you are stuck outside your car for whatever reason, you can always call an auto locksmith. They are available 24:/7.
They Have Insurance and Licensing Certifications
All reputable locksmith companies that offer auto locksmith services require a license and comprehensive insurance to do so. Only companies with qualified staff can get a license from the concerned authorities.
If there are any damages to your car in the process of repairs being carried out, you can rest assured that the company's insurance will cover it.
They Have Rekeying Skills
When car owners experience a car lockout, an auto locksmith helps them create new keys to unlock the car. This is a process known as rekeying, and it requires special tools and skills. Auto locksmiths have the necessary skills required to create new keys for any car lock.
They Make Use of Modern Tools
When you hire an expert auto locksmith in Toronto, you can be sure that they will make use of all the latest tools. The locks on most modern-day cars require special tools for unlocking and repair. Most auto locksmiths have these tools and have received special training on how to use them.
Can Any Locksmith Cut a Car Key?
Not all locksmiths can cut a car key. Your best bet will be to contact an auto locksmith near me for car key cutting. An expert should be able to cut keys for most types of vehicles. The majority of cars made after 1988 have transponder chips. A transponder car key is programmed to a specific car.
An auto locksmith can cut:
Electronic chips, remotes, car keys, key fobs
Van keys
Standard car keys
Bus keys
Truck keys
Keyless entry fobs
Caravan keys
Vintage and classic car keys
Motorbike/motorcycle keys
Can a Locksmith Program Car Remote?
Yes, an auto locksmith can program a car remotely. An expert auto locksmith can provide replacement transponder keys and car keys for remote fobs. If you have a damaged car remote, an auto locksmith Toronto should be able to repair or provide you with a replacement set.
How Much Should an Auto Locksmith Charge?
Most auto locksmiths charge based on the time of service offered and the type of car. An emergency car opening typically costs $90 to $180.
If you have to replace a lost car key, you can spend up to $300. Modern cars use chip keys, which can cost $150 to $300 to replace. The pricing is usually based on the complexity of the design or the automaker. A flip key costs between $200 to $400, while a keyless entry remote goes for $150 to $300.
What is a Transponder Car Key?
A transponder key contains an electronic microchip that is built into the head of the key. Transponder stands for transmitter and responder. The primary purpose of a transponder key is to eliminate theft. This makes it a basic component of your car's anti-theft or security system.
Today, automotive transponder systems consist of an antenna ring (also called an induction coil) around your car's computer. The transponder key also has an electronic chip key and the immobilize. When a programmed key is inserted in the car's ignition lock, the antenna ring sends out a signal through radio frequency when it's turned to the ON position. The transponder chip then absorbs that signal and sends back the identification code to the antenna ring. The antenna ring, in turn, sends the ID ring to the car's computer.
The moment the ID code matches the one contained in the computer's memory, the immobilizer is disabled, allowing the vehicle to start. The security light of the car will go out as soon as the key is recognized. However, if the lights stay on even after inserting the key, it means the car's computer is not recognizing the ID code from the chip key, and the car will not start. In such a citation, you ended to contact your auto locksmith to help reprogram a new transponder key.
Conclusion
Choosing an auto locksmith does not have to be difficult. If you require the services of an auto locksmith Toronto, contact TBC Locksmith today.
We are a reputable company that provides professional auto locksmith services. We also offer commercial, residential, and emergency door services. Our team of experts is always on call to provide lasting solutions to your auto lock problems.
We offer top-notch solutions for car lockouts, car remote repair, making new keys, and forging replacement keys. We are also skilled in installing new locks, door repairs, home lockouts, storefront, and commercial locksmith services. Contact us today for premium auto locksmith services.